Editors note: Rich is riding the Paris-Roubaix Challenge, a sportive sponsored by the organizer of Paris-Roubaix, ASO. It's 137km long, and runs over many of the same pavé sectors as the pros will be riding Sunday. We asked Rich to tell us a little about the bike he's planning on using, and will check back with him afterwards to see how the bike, and he, fared.
What to choose for the demanding parcours of Paris Roubaix challenge? I've a few bikes in my shed so I had some ideas, but chatting around to folks on Twitter and veterans of the June event it was a resounding – Go CARBON.
Argh! Now the question which one of my two bikes would I use. I have a lovely F Series Felt, but opted for my other bike, an Opera Super Leonardo. Why? The Opera is super tough, built from the same carbon as a Pinarello Dogma. It's angles, however, are a little slacker on the head and seat tube, providing comfort over a long day. The tubes are big, making for a stiff frame, yet I've never come home feeling brutalised from riding it.
I've an Ultegra SL group on it with one omission: a SRAM Red chainset running a 52/36 combo. With a 12-25 cassette it covers most bases, and I really like the set up.
I run a 3T alloy set up on the front end. It works and I love the hand positions that an Ergosum bar offers. For the saddle, it's a Regal which I've had for a few years and has been over the Flanders route before. I've gone for a double bar tape set up to add some comfort to the proceedings (not shown in pictures, as it was fitted Wednesday evening)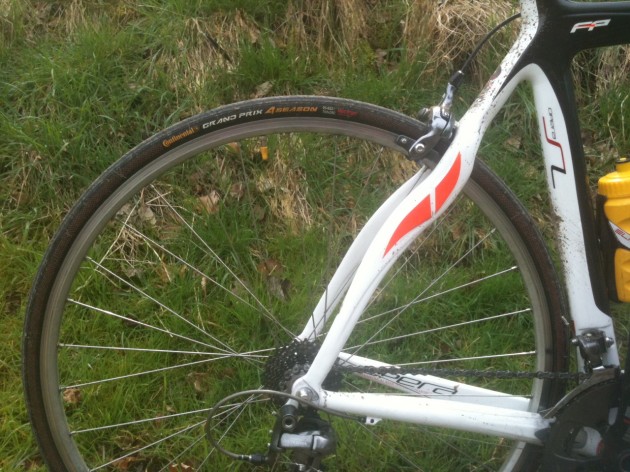 For wheels, out have gone the Mavic Kysriums that normally live on the bike. They have been replaced by Ultegra hubs laced to Mavic Open Pros. The big change for me is going to Continental GP 4 Season tires. I've been out on them and the comfort and grip has been excellent, while the added side wall protection offers some added peace of mind while traversing the pavé. The last detail is the Elite cages, which are carbon and titanium. Chatting to Peter from Elite revealed that these proved to be the best of their cages, as they didn't lose a single bidon.
So that's about it. I'll let you know if my decisions where wise ones, or if letting my vanity get the best of me in trying to look like a pro was a mistake.